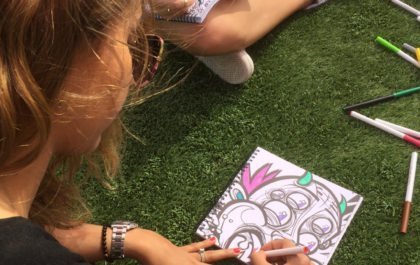 Stay inside the lines with 'The Wynwood Coloring Book'
Diego Orlandini, 4 years ago
0
3 min

read
4377
Originally Published by SunSentinel here.
In March, Diego Orlandini visited the mural-wrapped warehouses along Northwest 25th Street, in the midsection of Miami's Wynwood Arts District, for another glance at Misha Tyutyunik's street art. Instead of spotting Tyutyunik's work — an abstract zigzag of thick, black lines framing cargo ships rocking on the agitated seas — Orlandini saw a whitewashed wall. The mural was gone.
But Tyutyunik's piece, along with the street-art creations of 42 other artists, has been preserved in Orlandini's coloring book, in which he converts Wynwood's murals into elaborate, colorless drawings waiting to be shaded in crayon and colored pencil. Orlandini thinks his "Wynwood Coloring Book," 64 spiral-bound pages covered in Wynwood's finest walls, is both a stress reliever and a time capsule of art for a rapidly growing audience: adults who like coloring books.
"Adult coloring books are a lot more popular that I realized. They're not your typical castles and unicorns, but they're also not dirty adult books, either," says Orlandini, who funded the book via Kickstarter in March, raising more than $5,100. "These are large, lush, beautiful gardens, and trees and leaves, and it's very complex."
Orlandini, a novelist and illustrator who works in Wynwood, admits he wasn't familiar with adult coloring books or the many muralists who left their stamp in Wynwood. Last summer, when his ex-girlfriend handed him a book of drawings, Johanna Basford's "Secret Garden" ("she says, 'You look stressed out. Have a coloring book"), he grew skeptical, and assumed coloring "would stress me out more because I'd have to pause from work to start coloring."
"And then, I opened the book and realized that coloring does quiet your mind," Orlandini, 30, says. "I realized that Wynwood's murals really connected with me, so I reached out to a bunch of local muralists about the project. They were super excited from the get-go."
The craze over adult coloring started with Basford's "Secret Garden," 96 pages of lush, green forests that a 2015 New York Times feature says surged in popularity on first printing, sought out by adults who found appeal in the "tactile, interactive nature of the books, which offer respite to the screen-weary."
Orlandini says his 8-by-8-inch coloring book does help his adult friends de-stress, with large, intricate murals on two-page spreads mingled with single-page designs. Local and international artists help convert their murals into colorable pages for the book. Contributors include Diana Contreras, the London Police, Luis Valle, Patch Whisky and Alex Senna.
"The book kind of serves as a legacy for all the Wynwood art that's here or used to be here," Orlandini says. "Muralists can keep it as a journal of all the work they've done. But for adults like me, it makes you feel like you're coloring in your own Wynwood mural."
"The Wynwood Coloring Book" will go on sale during a book-release party 7 p.m. Thursday, April 7, at Wynwood Yard, 56 NW 29th St., in Miami. The book costs $25.95, and the event includes a pop-up bar and small bites. Go to WynwoodColoringBook.com.
Related posts