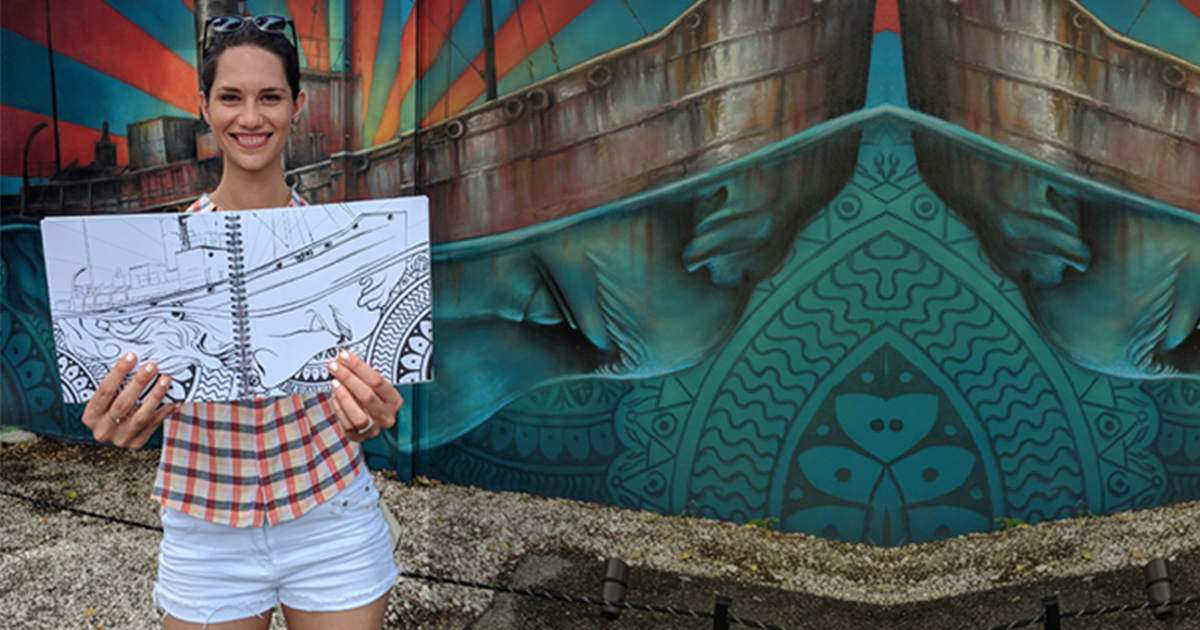 Channel Your Inner Artist with the Wynwood Coloring Book!
Diego Orlandini, 7 years ago
0
5 min

read
812
Originally published by Art & Fashion Salon here.
Do you walk around the streets viewing all types of murals or art in general and think "I wish I could do that?" Now you can with the Wynwood Coloring Book. Discover your inner artist with a new and completely fun project as many of the artists you have seen around Miami's Wynwood area (and a few from NYC and other parts of the country and world), have designed pages for you to color. Ever since I heard of this project last December I became a fan and began to support the efforts behind the book. Now you can too purchase a copy (details below) and coloring until your hearts content.
I asked the Miami based creators a few questions to learn more about how this idea came to fruition and all of the details, here's is what they told me:
What is Wynwood Coloring Book? Describe the concept:
It is a wire-o-bound, 64-page coloring book, printed on high-quality wood-free paper perfect for coloring. The book is portable at 8 inches by 8 inches.
The book features black and white versions of work by 40+ local and international renowned street artists who have decorated Wynwood, past and present. The last pages include a full-color directory with their information so you can connect directly with the artists. You can learn who are the artists behind every piece you color.

Over time, the murals get painted over by other works, but with the coloring book, they remain alive. In a way, the eight-by-eight-inch coloring book is an ambassador of Wynwood as it makes its way around the world and shows outsiders what's hidden in a former warehouse district in Miami.
The Wynwood Coloring Book is a self-funded project that is engaging the whole community of Wynwood. Artists, local businesses, residents and visitors are coming together. The book is becoming an ambassador of the Wynwood Art District.

The project has thousands of people in Miami excited and talking about it. It's a great souvenir to keep and take home some of the amazing art in the walls of Wynwood. It's a way to engage and connect the community of Wynwood and the thousands of visitors that flock the art-packed district of Miami.
The Kickstarter campaign offers many sweet rewards including custom set of colored pencils, and signed copies of the book by the artists.
Who is behind the project?
Diego Orlandini, is the founder and creative mind behind the idea. He has brought together a group of local, creative minded people to collaborate and support all aspects of the project including HGAB Magazine, AimfulMedia, LLC and Baltuch Designs. We are in the process of shooting a commercial and have brought on an incredible director, Daniel Yankiver, to join the team.
Do you both have art backgrounds? Do you both work in the art field now?
We both do have art backgrounds as a writer and a designer. The other people that are part of the team are in various areas of the art field.
When did you first get this idea and what inspired it?
The Wynwood Coloring Book started when a group of friends living in Wynwood, Miami gathered for a game night but were sidetracked after discovering a coloring book for adults. We quickly found that coloring provided a much-needed mental break. It was relaxing and highly entertaining; however, we grew tired of coloring mandalas and images that didn't inspire us (which seemed to surround book stands). Realizing we wanted to color the murals and the street art that surrounded us every day in our favorite neighborhood, we put this project together, and the Wynwood Coloring Book was born.
I've read that there are 64 pages to color and seen the great line up of artists. How did you choose the artists? Some don't live in Miami, how did you decide whom to ask to participate?
The book is 64 pages including the directory. We contacted many artists and chose pieces that would work within the realm of coloring and with various levels of complexity for the beginner and the expert alike. We have a mixture of artists, some local and some international.
Here is a complete list of the participating artists: Alex Senna, Alexander Mijares, Alice Mizrachi, Cernesto, Chris Riggs, Claudia La Bianca, Cori Hohër, Danielle Brutto & Molly Rose Freeman, Davel, Diana Conteras, Earl Funk, Elle, Entes y Pesimo, Erni Vales, Ever, Fallen Rose of 2Square, GG, Gonzo247, Indie 184, Ivan Roque, Jason Botkin, Jenny Perez, Jim Mahfood, Jorge Rodriguez, Krave, Lola Blu, Luis Valle, Makatron, Misha Tyutyunik, Nicole Salcedo, Patch Whisky, Pawn Price, Sheryo & The Yok, Stink Fish, Spear Torres, The London Police, Uncutt, Whut213, Will Rodriguez Graffx, and Zosen Bandido & Mina Hamada.

Daniel Fila and Luis Valle
Jorge Miguel Rodriguez and Davel
Are you self-publishing or publishing company? What have been the challenges / obstacles on either side?
The book was designed and published by Aimful Media, LLC. The biggest challenges have been the most rewarding ones as we created the template for this project from scratch. It also allowed us the opportunity to develop it on our own schedule and with full creative freedom.
How will the book be distributed? Can people worldwide purchase one? It's not just for Miami…?The book is available through our Kickstarter campaignhttps://www.kickstarter.com/projects/105893057/the-wynwood-coloring-book-discover-your-inner-arti
and on our website: http://www.wynwoodcoloringbook.com The books include free shipping worldwide. Various stores globally will be selling the books as well.
What do you want people to take away from the coloring book?
It is a great way to showcase the artists' work and connect to the artists and the Wynwood community. Research shows that adult coloring is a stress-relief and we love giving a new take on what is already out there in adult coloring books.
What is / was your most favorite part of the project?
The most favorite part was being able to engage the local community including businesses, artists and friends
If you could collaborate with one or two other artists – ANYONE! (No limits!) in the world for a page in the coloring book who would they be?
Kobra and Michelangelo.
What are your big plans for the book, what do you hope to accomplish?
To become an ambassador for Wynwood and street artists. To promote local art and culture to people around the world.
Related posts
Download the first five chapters and read them on your favorite device